Merkmale
▶ Verstellpumpe mit Axialkolben-Triebwerk in Schrägscheibenbauart für hydrostatische Antriebe im offenen Kreislauf
▶ Der Volumenstrom ist proportional der Antriebsdrehzahl und dem Verdrängungsvolumen.
▶ Durch die Verstellung der Schrägscheibe kann der Volumenstrom stufenlos verändert werden.
▶ Stabile Lagerung für hohe Lebensdauer
▶ Hohe zulässige Antriebsdrehzahl
▶ Günstiges Leistungsgewicht – kleine Abmessungen
▶ Geräuscharm
▶ Gutes Ansaugverhalten
▶ Elektro-hydraulische Druckregelung
▶ Leistungsregelung
▶ Elektro-proportionale Schwenkwinkelregelung
▶ Kurze Regelzeiten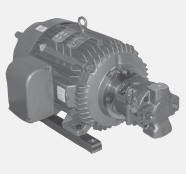 Axialkolbeneinheit
Schrägscheibenbauart, verstellbar, Nenndruck 250 bar, Höchstdruck 315 bar
Betriebsart
Pumpe, offener Kreislauf
Nenngröß (NG)
Geometrisches Verdrängungsvolumen
Regel- und Verstelleinrichtung
Druckregler hydraulisch

mit Förderstrom

regler

hydraulisch X-T offen

X-T verschlossen mit Spülfunktion

ohne Spülfunktion

mit Druckabschneidung hydraulisch ferngesteuert

elektrisch negative Kennung U = 12 V

U = 24 V

elektrisch positive Kennung U = 12 V

U = 24 V

Differenzdruckregelung elektrisch verstellbar (negative Kennung)

Drehrichtung
Bei Blick auf Triebwelle rechts

links

Dichtungswerkstof
FKM (Fluor-Kautschuk)
Triebwelle
Zahnwelle Standardwelle

ANSI B92.1a wie Welle "S" jedoch für höheres Drehmoment reduzierter Durchmesser, bedingt für Durchtrieb geeignet wie Welle "U" jedoch für höheres Drehmoment

Zylindrische Welle mit Passfeder DIN 6885 bedingt für Durchtrieb geeignet

Anbauflansche
ISO 3019-2 (ISO) 2-Loch

ISO 3019-1 (SAE) 2-Loch

4-Loch

Anschluss für Arbeitsleitung
SAE-Flanschanschlüsse Befestigungsgewinde metrich hinten nicht für Durchtrieb seitlich gegenüberliegend für Durchtrieb seitlich 90° versetzt nicht für Durchtrieb;

nur für Drehrichtung links lieferbar Gewindeanschluss metrisch hinten nicht für Durchtrieb

Durchtrieb
Flansch ISO 3019-1 Nabe für Zahnwelle1)

Durchmesser Durchmesser

ohne Durchtrieb

82-2 (A) 5/8 in 9T 16/32DP

3/4 in 11T 16/32DP

101-2 (B) 7/8 in 13T 16/32DP

1 in 15T 16/32DP

127-4 (C) 1 1/4 in 14T 12/24DP

1 1/2 in 17T 12/24DP

127-2 (C) 1 1/4 in 14T12/24DP

1 1/2 in 17T 12/24DP

Stecker für Magnete
Ohne Stecker (Ohne Magnet, nur bei hydraulischen Verstellungen, ohne Zeichen)

DEUTSCH-Stecker – angegossen, 2-polig,  ohne Löschdiode (für Elektrische Verstellungen)
Over the years, we have been committed to the production and research of the Axialkolben-Verstell pump. We not only provide high-quality machinery and accessories for sale on the market, but we also care about customers' profits and the impact of machinery on the environment. If you want to know more details, please contact us immediately!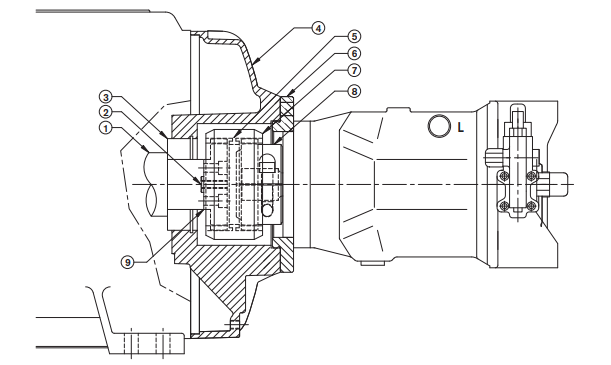 Shop & Save on Rexroth A10V | High-Quality Units and Parts Shop Our Selection of Rexroth A10V Hydraulic Pumps, & More High-Quality Parts! Please Call for Pricing. Huge Selection. Prev. WholesaleHydraulics. Types: Hydraulic Pumps, Hydraulic Valves, Hydraulic Motors.
AA10VSO | Bosch Rexroth USA A10V(S)O & (A)10VSO (Series 31). Variable displacement axial piston pump in swashplate design. Variable displacement axial piston pump in swashplate.
A10V(S)O – (A)10VSO (Series 31) – R902502728 – A A10V O Sizes 10 to 140; Axial piston swashplate design; Open circuit; Series 31 (sizes 18, 28, 45, 71, 100, 140); Combination of pumps of up to the same size can be.