Features
– Variable double pump with two axial tapered piston rotary groups of bent-axis design for hydrostatic drives in open circuits
– The flow is proportional to the input speed and to the displacement and is infinitely variable from qV max to QV min = 0
– The pump is suitable for direct mounting on the flywheel case in diesel engines
– One common suction port for auxiliary pump and both circuits – A wide range of control instruments is available for different control and regulating functions
– Individual power controller
– Integrated auxiliary pump with pressure-relief valve, optionally with additional pressure-reduction valve
– Power take-off for mounting axial piston and gear pumps
– Excellent power to weight ratio
– Long service life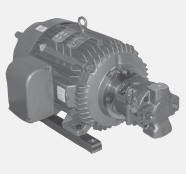 Axial piston unit
Bent-axis design, variable
Operation mode
Double pump (parallel construction), for open circuits
Size
≈ Displacement Vg max in cm3, per rotary group
Control device
Individual power controller without power override with hydraulic stroke limiter, positive control, and external pilot pressure supply

with load sensing

with hydraulic power coupling

and load sensing

and hydraulic stroke limiter, negative control

hydraulic stroke limiter, positive control, and external pilot pressure supply

hydraulic stroke limiter, negative control, and external pilot pressure supply

Individual power controller with power override by pilot pressure with hydraulic stroke limiter, positive control, and external pilot pressure supply

with load sensing

with hydraulic power coupling

and load sensing

and hydraulic stroke limiter, negative control

hydraulic stroke limiter, positive control, and external pilot pressure supply

hydraulic stroke limiter, negative control, and external pilot pressure supply

Electric control with the prop. solenoid (positive control) U = 24V

Series
Series 6; Index 1, 3
Direction of rotation
viewed from shaft end: clockwise
Gear ratio
i = 1
Seals
NBR (nitrile-caoutchouc), shaft seal ring in FKM (fluor-caoutchouc)
Shaft end
Splined shaft, DIN 5480
Mounting flange
To fit the flywheel case (conforming to SAE J617) of the internal combustion engine (hole diameter for fixing ø11 mm)
Service line port
SAE flange ports A1 and A2 at the side, opposite (metric fixing thread) 05 SAE flange port S at rear (metric fixing thread)
Auxiliary pump
without an integrated auxiliary pump without power take-off (PTO)

with power take-off (PTO)

with integrated auxiliary pump, without power take-off (PTO)

with power take-off (PTO)

Power take-off 1) 2) Flange SAE J744 3) Hub for splined shaft 4)

82-2 (A) 5/8in 9T 16/32DP (A)

101-2 (B) 7/8in 13T 16/32DP (B)

1in 15T 16/32DP (B-B)

127-2 (C) 1 1/4in 14T 12/24DP (C)

152-4 (D) 1 1/4in 14T 12/24DP (C)

1 3/4in 13T 8/16DP (D)

Valves
Without valves (only for versions without auxiliary pump, K..)

With pressure-relief valve (only for versions with auxiliary pump, F..)

With pressure-relief and pressure-reduction valve, (only for versions with auxiliary pump, F..). U = 24V

Connector for solenoids (only for EP)
DEUTSCH connector molded, 2-pin, without suppressor diode
Standard / special version
Standard version (without code) combined with attachment part or attachment pump

Special version

combined with attachment part or attachment pump
Over the years, we have been committed to the production and research of Axial Piston Variable Double Pump. We not only provide high-quality machinery and accessories for sale on the market, but we also care about customers' profits and the impact of machinery on the environment. If you want to know more details, please contact us immediately!
A8VO | Valve Packing Wrenches | Reed Manufacturing Adjustable wrench end for hex or packing nuts with the other end for O-style valve wheels. Combines two tools needed for regular maintenance and valve operation.
A8VO – Bosch Rexroth A8VO. For machines with multi-circuit operations such as excavators, cranes, drilling equipment, Size 55 … 225; Nominal pressure up to 380 bar; Maximum.
Axial piston variable double pump | Bosch Rexroth AG A8VO. Currently, downloads are not available. Please try again later for machines with a multi-circuit operation such as excavators, cranes, drilling equipment.